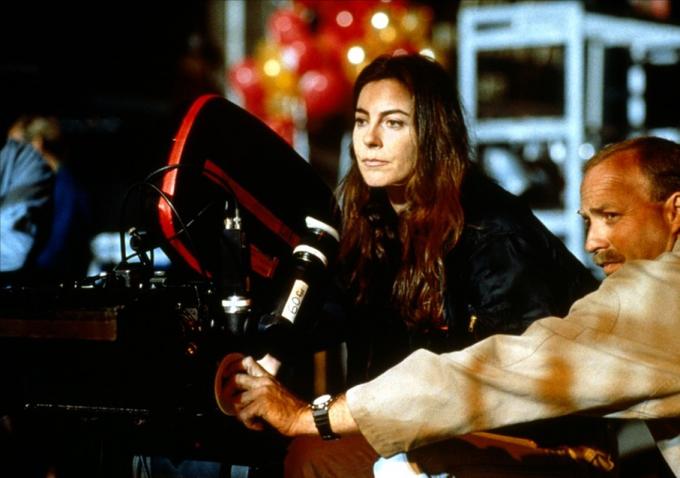 How Kathryn Bigelow & Eric Red Gamed the System to Launch Their Careers
Kathryn Bigelow and Eric Red not only delivered an exceptional screenplay to their agents, but along with it, equipped us with a real world plan of attack. This made "Near Dark" an exceptional setup. I was head of Gersh's Literary department, itching to sherpa my clients up Everest. Kathryn and Eric's tactical scenario offered the kind of dynamic activism agents live for.
We didn't have a big meeting or even work out details over a fancy meal. Kathryn and Eric's determination to overcome conventional industry-wide resistance to anyone outside the insider directing pool was palpable. When I signed Kathryn, I could see she was someone who was determined to not only even the odds against her achieving her goal – but not by kneejerk jumping at a single opportunity. Instead she was prepared to exercise discerning conduct aimed to promote a long and productive career. She was very smart to understand the difference, which led to sometime in 1986, when Kathryn and her writer/director friend Eric Red, whom Melinda Jason represented, made a pact.
Melinda had her own literary agency, but in many ways, she was my mentor. She'd gotten her start in the industry in the legal department at Fox features doing personal service contracts right after getting her law degree from USC. After a few years, she segued into becoming a literary agent. Over the course of working at a few mid-sized companies, she made a lot of friends who were agents. When she was able to start up her own company, she kept those friendships even though her friends were also her competitors. She knew there was a bigger, badder enemy out there we needed to protect each other from, by sharing information and sometimes, clients.
She reasoned that as independents there was safety in numbers to neutralize the predatory practices of corporation-sized companies – both agencies and studios. She also knew there was enough to go around for everyone. Perhaps it was because she'd grown up in a family with deep roots in the golden age of the entertainment business — her uncle directed "Rebel Without A Cause" and before that, her great uncle was president of the Directors Guild, having directed "Top Hat" and many other Astaire films — that fueled her positive expectations.
I, on the other hand, am an east coast transplant, and the product of film schools, with a BFA from NYU's Tisch School Of the Arts and an MFA from UCLA's Master Screenwriting program. I was trained at the Gersh Agency, and then rapidly promoted from lowly assistant to literary agent, to head of my department. Melinda called to congratulate me, and offered to help support my business. I was amazed at her generosity. Industry wide competition among literary agents for clients and writing assignments was fierce. Most agents were radically different from Melinda's confident commitment to solidarity and engaged in a lot of petty behavior. Melinda was a visible exception because she wasn't just vocal about fairness, she insisted on it.
It was obvious the studio system was still rife as ever with predicable favoritism, and not in favor of writers. Yet writers still expected their agents to buck the tide by lifting them over it. The problem was there was very little truly strategic action by the writers themselves. I don't mean by their writing. They were pretty busy doing that. They exuded a culture of materializing all kinds of fantastic ideas that promised to complement the studio mandate to keep new material flowing. They acted as though they believed they had magical creative powers, and should be offered to direct as a possible entitlement. After all, they were used to being creators by simply putting hand to paper. Somehow, if they could be glued into the director's chair, their scripts would have lift-off. As their agents, we made lots of deals, development deals — but most scripts ended up as baubles in the studio vault. It's ironic to me looking back, with such a glut of script development money, and so many talented dealmakers on every side of the aisle, but no great leap forward. Directors were cast, just like actors, with a ton of politics in the rooms we got them into. So many potential innovators passed through, and didn't make it. Eventually, they landed at Park City, but that's another story.
Melinda signed Eric after he graduated from AFI as a directing fellow. Barely 22, he'd written a script called "The Hitcher," inspired by an actual incident when Eric picked up a creepy hitchhiker while driving cross-country. Eric expected to direct "The Hitcher" but TriStar, where Melinda had sold the script, wasn't ready to work with a first-timer, let alone a 22-year-old first-timer. TriStar was a brand new studio, in partnership with HBO with the mandate to boldly depart from the past and stay ahead of the curve, more in the tradition of the maverick filmmakers of the '70s. Lots of producers wanted to be in that game and developed great material, but ultimately clashed when it came to casting, budget, and location; then typically the studios wanted the script dialed back into more familiar territory. So, they churned out lots of forgettable films. "The Hitcher" was supposed to pave the way for a glut of hipness, but it turned out to be an exception.
That expectation of hipness was considered the best way to compete with big network television. Though TV enjoyed monopoly status, it was stifled by standards and practices that hadn't changed since the 1950s. The MTV generation craved something new. Studios saw an opportunity, and as agents we heeded the call and signed stylish music video and commercial directors who'd landed in LA like they were taking a beachhead.
There was also an influx of film school grads, hopefuls like Kathryn and Eric. The problem was, no matter how hip or talented they were, most struck out. It wasn't enough to be a cool visual storyteller when inexperienced with the often years long pressures of script development, on set star-driven dramas, commanding legions of studio film crew craftsmen, studio staff politics that included strategic marketing concessions and aggressive promotion. Still, a studio might, for a number of reasons, be inclined to go with the fresh perspective of a first-timer, but less so with the writer of the script, since it opened the door to disagreement about how to interpret and revise the many creative variables in the production process that might run contrary to the writer's intentions. Nevertheless, sometimes they could see the advantage of having the director be the one to revise any story detail as needed, as someone already built into the process. A lot of writers believed this scenario was generally possible when in fact it wasn't.
"The Hitcher" was daring for its time, especially gruesome in a pre-"Saw" universe. Dutch actor Rutger Hauer gave a frightening performance, flanked by a wide-eyed teenaged C. Thomas Howell. Jennifer Jason Leigh lent some edge of her own and pulled the viewer into an in-your-face punk vibe. Though Eric was getting a lot of positive attention, he soon learned only top-tier filmmakers who'd created smash critical successes, the likes of Walter Hill, William Friedkin, Francis Coppola, Robert Altman, or Marty Scorsese, were able to overcome studio gridlock and experiment with new ideas.
I'd spent two years sending out Kathryn's Columbia graduate school student film, "The Set-Up," to a slew of studio producers, independent producers and studio executives. As I'd intended, they were stunned by the film's staged, but genuinely intense street fight. Kathryn also had the advantage of impressive social skills and focused intensity on her goal to become an important film director. Though she understood to get the opportunity to direct she'd have to write the script first, she was brilliant at delivering the respectfully polished assertion that she'd mastered genres until now exclusively monopolized by male directors.
To me, this was an exciting campaign. To get her into the game, I made two studio deals. These projects were both conceived by producers as cutting edge, tailored to cast popular brat pack actors, but were in fact tepid, bordering on silly. Kathryn went into each situation in good faith, but we both knew she was on a fool's errand. Though they insisted they wanted smart, hip genre films with an edge rarely seen from a studio-generated project, they didn't really mean it. So I got Kathryn an episode to write for a network show, "The Equalizer," which at least was consistent with her creative abilities. But Warner Bros./CBS wouldn't consider Kathryn as a director.
After "The Hitcher," Eric had street cred as an architect for stylized violence, but his youthfulness probably got him into some terra incognita in a conference room situation. Kathryn, on the other hand, was skilled at interpreting the dynamic in a conference room and addressing directly with aplomb. She was able to surprise people with her poise and confidence by tempering her basic intensity. She had this knack of projecting she knew something you didn't, but she was too polite to unsettle you and instead graciously invited you into her private perspective.
This was a terrific way to disarm skeptical sexists. The only women directing for the majors were Penny Marshall and Amy Heckerling, and a few others who squeaked in through network TV sitcoms. The idea of a woman directing anything but comedy just wasn't on anyone's mind. That included minorities and in most cases, the minority A-list too. A few did fight the tide. Martha Coolidge directed a drama about date rape in the mid '70's, but ended up directing comedies, like "Valley Girl" and "Joy Of Sex." Even Susan Seidelman's "Desperately Seeking Susan," though a more risky story that introduced Madonna to mainstream audiences, was still comedy. Barbra Streisand's "Yentl" wasn't an actual comedy, but delivered a strong romantic main plot with a topical cross-dressing component that went for the nervous kind of laughs. Even rock documentarian Penelope Spheeris, of "The Decline Of Western Civilization" fame, transitioned into comedy with "Wayne's World." Only Randa Haines directed a true drama, "Children Of A Lesser God." The advent of Sundance was starting to open up wider opportunities for filmmakers of all kinds.
But it was a slow, pre-Tarantino dance. Kathryn and Eric didn't fit in to any standard trending categories. They saw the system for what it was, and took matters into their own hands. They were going to be strategic; they would write two scripts together. The first, "Undertow," Eric would direct. The second, "Near Dark," Kathryn would direct. Since they were co-writers, they co-owned the rights to the screenplays they wrote together, no one could undermine their directing attachments. Though Melinda and I hadn't yet gotten either script, we knew what our clients were capable of. We knew we were going to get material that was going to be highly original, and probably prone to deliver out of the park, genre-bending payoffs. True to our expectations, "Undertow" caused a sensation when we took it out because the script was written in a unique, terse style, reminiscent of an Edgar Allen Poe poem, dark and macabre. Predictably, the offers came in for "Undertow" without a directing commitment to Eric, so the four of us – Melinda and I, Eric and Kathryn, held fast to the plan until we got the deal we all wanted. If someone wanted to buy "Undertow," Eric would have to be irrevocably attached to direct it. In Hollywood, there's no such thing as 'irrevocable' but we came as close to it as anyone could.
Getting that deal on the table was like staying on a bucking bronco. There was serious resistance to Eric, who was perceived as just another writer who wanted to direct. It took all our collective grit to build the most solid clauses we could to discourage the buyer from exercising their pay or play option, if a bigger name director became available or could deliver a certain star, which meant Eric could be replaced by simply paying off his directing fee. Finally, Melinda and I were able to get the deal done. Then Kathryn's directing project, "Near Dark," came in. Not only did the script have the same spare and effortless dialogue, but Kathryn had interlaced into its pages, copies of photographs from a recent show at the Museum of Modern Art. These weren't the usual portraits of the fashionable or famous, but ordinary rural Americans with haunting and beautiful faces that bored straight to the heart. Normally I wouldn't ever recommend including illustrations at all, but these images, when coupled with a vampire narrative set in the Midwestern heartland, offered a canny glimpse of how Kathryn envisioned the film.
Many producers made offers, but none with Kathryn directing. They offered more money for the buy and promised a bigger budget to lure an important director and expensive stars. Then Ed Feldman, who produced "The Hitcher," stepped up to the plate and guaranteed Kathryn the same directing deal we'd gotten Eric for "Undertow." Ed managed to get the film financed with Kathryn, not only as a first time director, but also to his credit, he was supportive of letting her cast it the way she wanted. Ed continued to work with Kathryn, on "K-19." Because of Ed, Kathryn is probably the only woman ever to have directed a $100 million budget.
In an unfortunately more typical scenario, the production for "Undertow" stalled. Eric directed, a decade later, for Showtime. Kathryn and Eric did collaborate again once more on the heels of "Near Dark" with "Blue Steel," with Kathryn as the director. In a worlds apart departure from the campy '70's ads of women way in the background with guns in tight dresses looking like models, "Blue Steel"'s one-sheet featured a close-up of Jamie Lee Curtis in uniform, on the job, with hands wrapped around her weapon in a tactical pose. It was pretty clear, at last, who was finally calling the shots.